Over at Monsterforge's blog he posted up a contest, as it is getting near the july 11th deadline I decided that more people need to know so heres the info on this awesome contest with one heck of a prize.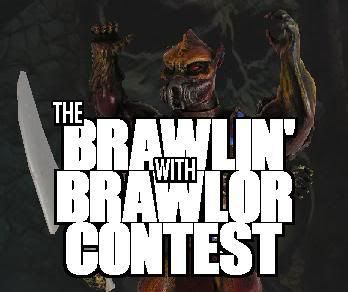 Monsterforge wrote:
""Your task is to create the ultimate arch enemy of Brawlor! Brawlor's an ex-gladiator and slave, so this dude or dudette has GOT to be tough. You can create your entry using ANYTHING. You can make a custom figure using parts of other figures, sculpt it out of clay, glue macaroni to construction paper, draw it on notebook paper, make it out of your own poop and dead skin cells-- WHATEVER!!! If you draw like a monkey on acid you can still come up with the elements of a cool character-- this isn't being judged on artistic skill-- it's all about creating a cool original character (of course, if you have great skills I want to see them!!!)
Deadline: sunday, July 11th at midnight is the deadline for entries. You can email pics of your entry along with the character's name and bio (and your website information so people can see your other work!) to me at
monsterforge@yahoo.com
. The main restriction is that there can be only one entry per person (to keep things nice and fair). When all the entries are in, I'll post them on the blog for everyone to see, and on the evening of Monday, July 12th I'll announce the winner!""
Honestly he doesn't seem to expect much for such a rockin prize so personally i suggest pumping out an entry asap!